Boxing's Tyson Fury was being questioned by ITV News and was asked a few inappropriate questions the the reporter and it pissed Fury off to the point he had to "Terminate" the interview.
VIDEO AT THE BOTTOM OF THE PAGE:
Tyson Luke Fury[2] (born 12 August 1988) is a British professional boxer. In 2015 he won the unified WBA (Super), IBF, WBO, IBO, Ring magazine and lineal heavyweight titles, after defeating long-reigning world champion Wladimir Klitschko. The victory earned Fury Fighter of the Year and Upset of the Year awards by The Ring. He was subsequently stripped of the IBF title later that year for being unable to grant a fight against their mandatory challenger, Vyacheslav Glazkov, due to agreeing to a rematch with Klitschko. In 2016, Fury vacated the WBA, WBO, IBO, and lineal titles following a medical investigation and personal issues, and two cancellations of the Klitschko rematch. In 2018, following more than two years of inactivity, The Ring stripped him of his last remaining title.[3] In August 2016, Fury was ranked by BoxRec as the world's sixth best active boxer, pound for pound.
Having initially been denied the opportunity to fight for Ireland at the Olympic Games, Fury was permitted to represent both Great Britain and Ireland after tracing his family lineage to relatives in Belfast and Galway.[4][5] He has represented both England and Ireland as an amateur, winning the ABA super-heavyweight title in 2008 before turning professional later that year. At regional level he held the British and English heavyweight titles twice each, as well as the European, Commonwealth, and Irish heavyweight titles.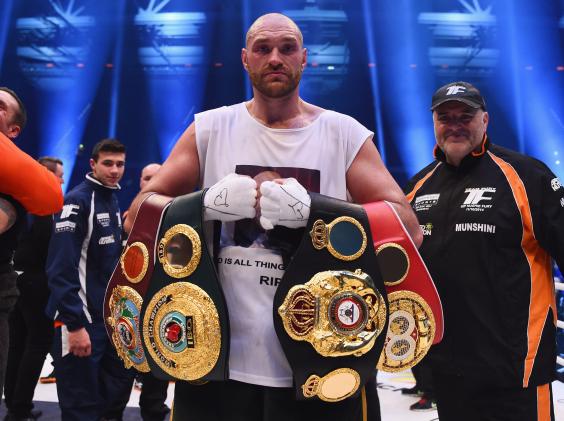 Tyson Luke Fury was born and raised in Wythenshawe, Manchester, England. He was born into a family of Irish Traveller heritage.[6] His paternal grandfather was from Tuam, County Galway, which is also the birthplace of his father, John Fury.[7] The Furys of Galway are ultimately of Gaelic origin, deriving their present name from Ó Fiodhabhra.[8] His maternal grandmother is from County Tipperary and his mother was born in Belfast.[9][10] His family has a long history in boxing;[11] his father competed in the 1980s as "Gypsy" John Fury,[12] initially as a bare-knuckle fighter and unlicensed boxer, and then as a professional boxer.
He is a cousin of Irish former WBO middleweight champion Andy Lee,[10] former British light heavyweight champion Hosea Burton[14] and heavyweight Hughie Fury.[15] He is also a distant relative of "self-styled King of the Gypsies"[16] Bartley Gorman,[17] hence Fury's own self-styled nickname, 'Gypsy King'.[18] He has also styled himself as 'The Furious One'[19] and Tyson '2 Fast' Fury.[20] His father named him Tyson after then-world heavyweight champion Mike Tyson.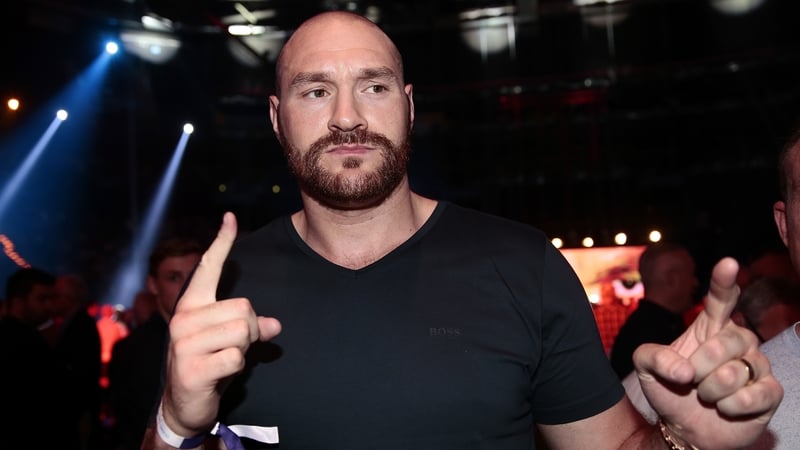 Despite strongly identifying with his Irish heritage, Fury has had problems in gaining dual citizenship, because in the 1960s, his father's birth in County Galway was not recorded civilly, as Irish Travellers at the time only recorded births through baptism with the Church, rather than officially with the state.