This is a dream scenario for many people and for this bloke it actually happened. He was picked to go on stage and help Jean Claude Van Damme with a little demo. JCVD asked the man to kick him in the head. Obviously not with the intention to hurt him, but something that would work for the demo and make it look good. Apparently, this guy didn't know he wasn't supposed to try and show up because he threw a kick that JCVD wasn't fast enough to block and it tagged him on the side of the head.
JCVD wasn't physically injured because the man didn't follow through on the kick. If anything JCVD's ego was hurt a little, after all, it was his demo. He gave a little smile and then when he proceeded to demonstrate on the fan it was obvious he wasn't just going to let it slide. JCVD kept it cool, he could have totally been a jerk about it, but instead, when it was his turn to kick the fan as part of the demo he added a little something. It wasn't anything crazy, but enough to let him know he shouldn't have done that.
JCVD proceeded to leg kick the fan and you can tell there was a little extra. It really didn't sink in until he connected with a kick in the gut. The fan let out a slight grunt and it was clear JCVD was returning the favor. As the demo went on, it seemed the fan didn't really get it. After making an advance towards JCVD that was harmless, but potentially might not have been he was asked by security to get off the stage. JCVD gave him a hug and he was on his way.
I am sure when they saw he didn't seem to get that he is there to be a prop for JCVD and not show off his skill, the security got worried he might go too far. JCVD was never in danger, but better safe than sorry. Even the fans with the best intentions can get caught up in meeting their martial arts idols.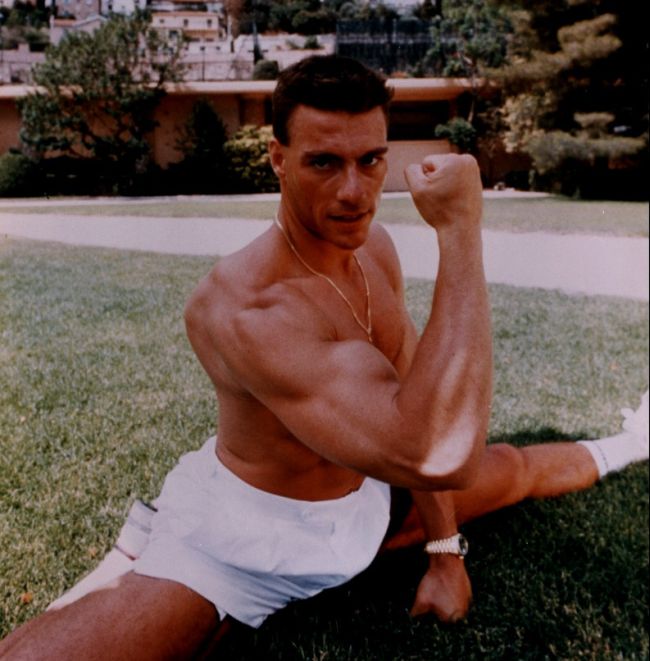 The lesson here is to never try and upstage the man doing the demo. Even if the fan wasn't doing anything intentionally the fact that he didn't seem to acknowledge that he almost kick JCVD's head off was enough to know this guy shouldn't be up there in this type of scenario. Part of me wishes that JCVD wouldn't have been able to get his hands up in time to slow down the kick.
It would have been interesting to see what happened next. Would we have seen JCVD retaliate with a kick or punch? Would we have seen security rush this man? Who knows, but either way it would have made for some good entertainment. If you are a JCVD man make sure to check out his latest film The Bouncer. It is probably his best film in years and must-see for any JCVD fan.