Former UFC welterweight title contender Stephen "Wonderboy" Thompson is feeling like he has been set up by Darren Till and the UFC today. After traveling a hard 14 hours in coach class on a plane to the lower ranked fighters hometown of Liverpool, England, Wonderboy had to take on a very tough weight cut despite the jet lag.
Meanwhile Darren Till who recently said: "It's cheating what I'm doing, I get in there at 210-215lbs on fight night, I'm a heavyweight fighting Welterweights, It should be illegal." Till, knowing this is a massive chance for him to jump right into the #1 spot and get MASSIVE Paday's after, seems to have deliberately decided to not make the weight cut in order to be able to shoot back up to the 215 mark safely and not lose any cardio cutting weight like Wonderboy.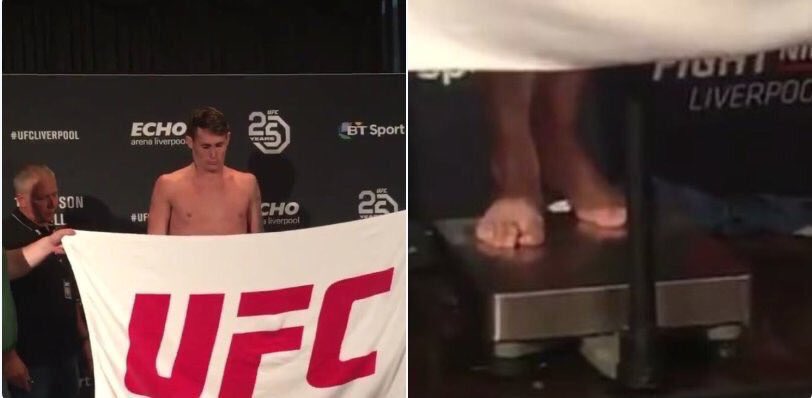 Pictured below, last night Till was down at the hotel bar in the wee hours of the morning shooting back shots of Coca Cola like he has no worries. Today when he weighed in, he actually only weighed in with 1 foot on the scale so that he can trick the scale:
I guess if you ain't cheating you ain't trying right Darrell? @darrentill2 You fat fuck. Back of the line junior ?. #UFCLiverpool #NerdBash2018 #makewelterweightgreatagain pic.twitter.com/jn6hLsyddn

— Colby Covington (@ColbyCovMMA) May 26, 2018
The commission gave him 1 hour to cut the rest of the weight but he decided to actually gain weight during this hour to prove that he can't make it and force Wonderboy to accept the fight in order to save the event and not piss off Dana White.
But it backfired, Wonderboy accepted the fight but on 1 condition. He has to be 188lbs or under before they get on the bus to the arena. Most likely Till will do what he did with the 1st weigh in. . . just blow it off. . . Check it out:
darrentill2 When your under weight the night before you can have a glass of coke, but shhhhh don't tell anyone!! ?