Boxing superstar David Haye made his return to the ring over the weekend in the Sky Sports main event to face Tony Bellew in a long awaited rematch. Haye injured himself early in the first fight and went on to lose a decision. This time, Bellew put in work and ended up knocking Haye out. After the victory, Bellew called out Andre Ward to come out of retirement and face him for his belt.
Bellew said: "I will knock Andre Ward out or I will outbox him. I can match him on the inside, he has never fought anyone who could do that. He is Bernard Hopkins but 20 years younger, he's a brilliant fighter and a legend but I know I can beat him."
Andre Ward spoke to fighthype: "I've been blessed. I just got off the set of Creed 2. I'm on my way to the set for The Contender. I had a great opportunity to host the show. I'm focused on that right now. I wish Tony nothing but the best. I've been waiting on a phone call from Eddie Hearn since the Froch situation happened. When he fought Mikkel Kessler for the second time. I've been waiting for Eddie to pick up the phone and I still haven't got that phone call. For sure, I'm totally in."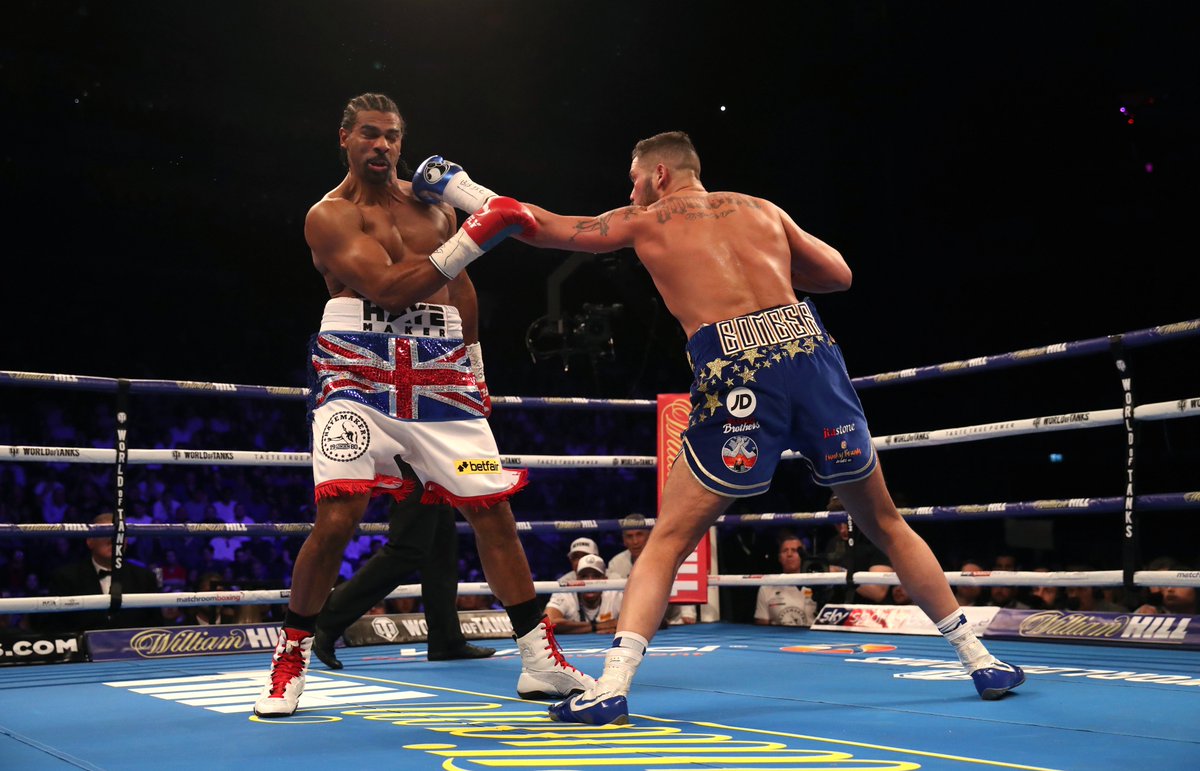 Following his win over BJ Flores in October, WBC Cruiserweight champion Tony Bellew immediately hit out a verbal assault on rival Haye, who was ringside, repeating he's next. Referring to Haye as 'Sideshow Bob', Bellew carried on the verbal assault in the post fight interview using profanity and taunting Haye stating he has been 'conning the British public' since he announced his comeback. Eddie Hearn claimed the fight could take place at heavyweight or at cruiserweight for Bellew's WBC title.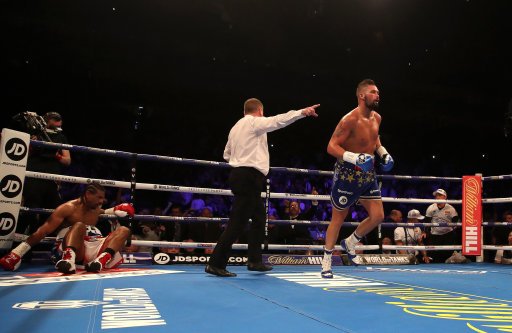 On 25 November 2016, Hearn announced on Twitter that Haye and Bellew would face each other in a heavyweight bout on 4 March 2017 at the O2 Arena, London. The fight was shown on Sky Box Office and was Bellew's first heavyweight fight. At the first press conference on 30 November, a fight broke out as Haye and Bellew went face to face and it appeared on the replay, Haye had managed to land a left hook on Bellew, leaving a mark. Both fighters were then separated before going their own ways.[72] On 3 March 2017, Haye weighed 224.9 pounds, heavier than Bellew who came in at 213lbs, a career high.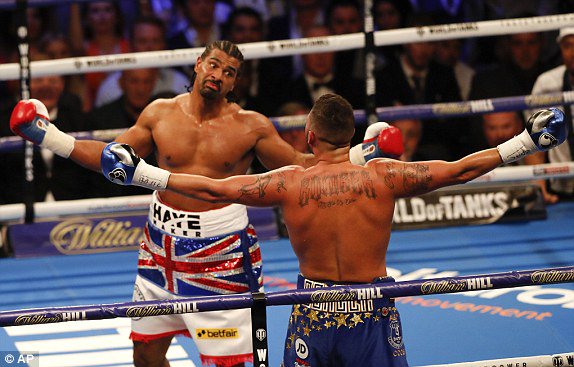 The bout started as a stalemate until the sixth round, when Haye injured his Achilles causing him to fall twice. Bellew then took control of the fight as Haye opted to continue. Bellew knocked Haye down out of the ropes late in the eleventh round. Haye managed to make it to his feet, but his corner threw in the towel, giving Bellew a TKO win. Bellew credited Haye for his bravery, while Haye refused to blame his injury and stated that Bellew was "by far the better fighter", though stated that he wanted a rematch.